Spouse Activities
Spouse/Guest Breakfast – As always, if your spouse or guest would like to be included in the daily breakfasts from 7:30 – 9:00 AM, please be sure to register them by selecting "Companion Registration" during the registration process. (The cost is $60 and includes breakfast on Monday, Tuesday, and Wednesday.)
Spouse/Guest Off-Site Activities – Off-site tours will also be available for guests and companions at this ICC meeting. The list of off-site activities includes:
Monday, May 5, AM: Hallmark Visitor's Center
Monday, May 5, PM: Crown Center Shopping
Tuesday, May 6, AM: The Money Museum
Tuesday, May 6,PM: Liberty Memorial War Museum or Kansas City Aquarium
Wednesday, May 7, AM: Belger Arts Center
Wednesday, May 7, PM: Farmer's Market
If you are interesting in participating in any of these activities, please register for them on the ICC registration site. We would like to get a head count to determine the level of interest in these activities. There is no charge for these events, although participants should be prepared to pay public transportation costs to the site (if applicable) and any food and beverage or miscellaneous personal expenses.
Shopping excursions are also available at the Crown Center shops, located adjacent to the hotel, which has long been one of Kansas City's favorite places to spend a day shopping. Anchored by hometown luxury store, Halls--Crown Center has it all. From ice skating in the winter, eating at the Crayola Cafe or catching a matinee at the Coterie Theatre to shopping at one of its many specialty stores. Additional relaxing activities will be available at the Spouse/Guest meeting room within the hotel.
Tourist Information
Airport – The nearest Airport is Kansas City International Airport (MCI) (all major carriers).
On-Airport Shuttle Bus Information:
RED BUS - To Circle Parking Lots and Other KCI Terminals
"Red Buses" offer free transportation to and from Circle Parking Lots and between terminals. Red Bus stops are located on the curbs outside each terminal building and are marked with overhead signs. Buses arrive approximately every 15 minutes. All Red Buses are wheelchair lift equipped and can "kneel" lower for easier access to the loading steps. For more information, call 5219 from any in-terminal white courtesy phone.
Ground Transportation
From Kansas City International Airport
Rental Cars
Rental Car Services
1 Nassau Circle
Kansas City, MO 64153
All rental car companies share a Gray Rental Car Shuttle that stops at marked shelters at terminal medians.
| | | |
| --- | --- | --- |
| Company | Phone Number | Web Address |
| ACE | 816-464-2100 | |
| Alamo | 816-464-5151 | |
| Avis | 816-243-5760 | |
| Budget | 816-243-5757 | |
| Dollar | 800-800-4000 | |
| Enterprise | 816-464-2500 | |
| Fox | 816-464-2100 | |
| Hertz | 816-243-5765 | |
| National | 816-243-5770 | |
| Payless | 816-464-2100 | |
| Thrifty | 816-464-5600 | |
Taxis
Courtesy phones for taxi service are located both inside and outside the terminal at each bag claim area and at other strategic locations outside the terminal exits. Make sure that you give the dispatcher your exact location.
Fares may be pro-rated (shared) when the originating passenger requests it and all other passengers agree.
If calling from a personal phone, call 816-243-2345.
Rates are $2.50 plus $2.10 per mile. Rates may vary due to traffic delays and waiting time.
Notice:
City ordinance requires taxicab operators to take all trips regardless of length. If short-trip service is refused, obtain the name and vehicle number of the cab and report it by calling 816-243-5237. It is also illegal for taxi drivers to solicit your business without invitation.
Airport Shuttle Services
This listing is provided only as a service to travelers. Neither the Kansas City Aviation Department nor ICC endorses nor guarantees any particular company. Please research your shuttle company choice carefully.
Shuttle Company

Phone Number

Service Area

Abe's Transportation, LLC.
Dedicated shuttle service Reservations only

816-349-5393

Kansas and Missouri

AERO Shuttle Express
Reservations only

816-839-1148

Kansas and Missouri

Best Express Shuttle
Reservations only

866-838-1419

Wichita area

Elite Shuttle of Kansas City
Dedicated shuttle service Reservations only

816-912-2023

Kansas and Missouri

5 Guys Transportation
Dedicated/private car service Reservations only

913-748-5423

Kansas, Missouri, Nebraska, Oklahoma and Iowa

Ground Transportation
Services, LLC
Scheduled shuttle service

888-467-3729

Lawrence

MO-X
Scheduled shuttle service

877-669-4826

Boonville, Columbia

Quicksilver Airport Service
Shared ride van
(with 6 hr. notice)

913-262-0905

Kansas City and surrounding area

Rick's Express
Shuttle service
Reservations only

913-651-4649
800-331-6796

Atchison, Basehor, Bonner Springs, Ft. Leavenworth, Platte City, St. Joseph, Tracy, Weston

Roundabout Transportation
Scheduled shuttle service
(car seats/boosters available)

913-488-4224

Kansas and Missouri

Spirit Shuttle
Shuttle service
Reservations only

660-429-4187

Blue Springs, Independence, Knob Noster, Lee's Summit, Raytown, Sedalia, Warrensburg, Whiteman AFB

StarFleet Shuttles
Reservations recommended
Smoke-free private service

913-499-1035

Kansas and Missouri

SuperShuttle
Scheduled shuttle service
No reservations required
Offices & kiosks near bag claims

800-258-3826

Kansas City and surrounding areas

V.I.P Transportation Services
Airport shuttle service

816-916-4267

Kansas and Missouri
Public Transportation
Metro Bus Service
The Metro operates to and from KCI every day of the week. Metro buses accept cash and Monthly Bus Passes. The regular fare one-way to or from KCI is $1.50. Reduced fare for eligible seniors, youths and persons with disabilities with a Metro reduced fare card or Medicare card is $0.75.
Fare boxes accept exact change only; if you do not have exact change the driver can issue a change card that holds a credit. Inform the driver before inserting money into the fare box if you want a change card.
For routes, schedules and additional information on the Metro please check out their web site at www.kcata.org or contact The Metro directly at 816-221-0660.
Tourist Information
Negro Leagues Baseball Museum



History of Baseball League
Address: 1616 E 18th St, Kansas City, MO 64108 United States
Explore the history of the Negro Baseball Leagues at this museum located in the 18th and Vine District. Through video presentations, film exhibits, interactive stations, a photo gallery and pieces of memorabilia, the museum offers insight into the lives and careers of the players who contributed so much to the game of baseball while helping to advance the Civil Rights movement. This museum adjoins the American Jazz Museum, so be sure to allow enough time to visit both.
Phone: +1 816 221 1920/+1 888 221 6526(Toll Free), Fax: +1 816 221 8424, Website
Hours: Tuesday – Saturday, 09:00 AM to 06:00 PM, Sunday, 12:00 PM to 06:00 PM

Nelson-Atkins Museum of Art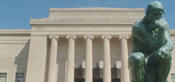 Renowned Art Museum
Address: 4525 Oak Street Kansas City 64111 United States
This artistic wonderland is housed in a splendid neoclassical structure that serves as a piece of work in itself. Collections of American and European art contain creations from the most prominent schools and periods, from artists such as Homer, Caravaggio, Monet, Titian, Rodin, Renoir and hundreds of others. Popular displays at the museum include the Chinese Temple Room, a sealed Egyptian tomb and an outdoor sculpture garden. A cafe and gift shop are also on-site. Admission is free. Call to know more.
Phone: +1 816 751 1278, E-mail, Website
Hours: Wednesday, 10:00 AM to 04:00 PM,Thursday – Friday, 10:00 AM to 09:00 PM, Saturday, 10:00 AM to 05:00 PM, Sunday, 12:00 PM to 05:00 PM

Kemper Museum of Contemporary Art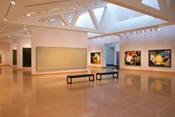 Art for All Senses
Address: 4420 Warwick Blvd., Kansas City, KS 64111 United States
Opened in the fall of 1994, the Kemper Museum has become one of the most respected galleries in the region. The permanent collection donated by Bebe and Crosby Kemper features contemporary works. Temporary exhibits included a complete retrospective by fashion photographer, Herb Ritts. The museum also exhibited and ultimately acquired a moving AIDS tribute by Robert Juarez. The building itself is also worth a look. Constructed with a plethora of nooks and crannies and two elongated wings, the structure looks like a bird in flight from above. Admission is free.
Phone: +1 816 753 5784, Fax: +1 816 753 5806, E-mail, Website
Hours: Tuesday – Thursday, 10:00 AM to 04:00 PM, Friday – Saturday, 10:00 AM to 09:00 PM, Sunday, 11:00 AM to 05:00 PM

Harry S. Truman Library & Museum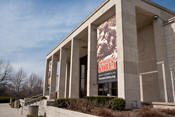 Presidential Library
Address: 500 W US Hwy 24, Independence, MO 64050 United States
Located in Independence, the library, one of 10 presidential libraries in the country run by the National Archives and Records Administration, houses 15 million pages of documents and 35,000 objects, all associated with the life and presidency of Harry Truman, whose hometown was Independence, Missouri. Truman and his wife, Bess, are buried in the courtyard on the grounds of this impressive library. Truman is famous for a plaque on his desk stating "The Buck Stops Here." For those who are history buffs, this library is incomparable for a history of World War II.
Phone: +1 816 268 8200, Fax: +1 816 268 8295, E-mail, Website
Hours: Monday - Saturday, 9:00 AM to 5:00 PM, Sundays, Noon to 5:00 PM, 9:00 AM – 9:00 PM Thursdays, May through September
American Jazz Museum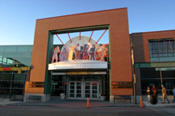 History of Jazz Music
Address: 1616 East 18th Street, Kansas City, MO 64108 United States
This impressive museum, American Jazz Museum, pays tribute to the performers who helped create the musical style we call jazz. The history of this music form is told through interactive exhibits where you can listen to performances, watch videos and learn more about the greatest jazz musicians. You will also learn about the history of African-Americans artists in Kansas City and their many contributions to our society. The museum, which adjoins the Negro Leagues Baseball Museum, is available on rent for special events as well. Group tours are available. Call ahead or check the website for more details.
Phone: +1 816 474 8463, Fax: +1 816 474 0074, E-mail, Website
Hours: Tuesday to Saturday from 09:00 AM to 06:00 PM, Sunday 12:00 PM to 06:00 PM

Arabia Steamboat Museum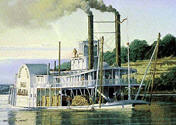 Sunken Treasure
Address: 400 Grand Blvd., Kansas City, MO 64106 United States
Located along the Grand Boulevard in Kansas City, the Arabia Steamboat Museum relives the story of Arabia, the steamboat which sank due to a snag in the Missouri River. The boat itself was designed to face the current and go upstream. The sunken vessel was discovered in 1988 and the remnants and artifacts are now displayed in this museum. The museum also has a gift shop for souvenirs. Check the website for more information.
Phone: +1 816 471 1856(Reservations)/+1 816 471 4030, Fax: +1 816 471 1616, E-mail, Website
Hours: Monday to Saturday from 10:00 AM to 05:30 PM, Sunday from 12:00 PM to 05:00 PM

Liberty Memorial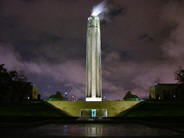 World War I Museum
Address: 100 West 26th Street, Kansas City, MO 64108 United States
Founded in 1919, the Liberty Memorial was established to honor those who fought and lost their lives during World War I. The City of Kansas after the war wanted a medium through which they could pay their respects and showcase the cruelty of war. Founded in 1919, the Liberty Memorial was established to honor those who fought and lost their lives during World War I. In a two week public drive, it raised over USD 2.5 million and built the Liberty Memorial. The Memorial is divided into a North Wall, Exhibit and Memory Halls, a Sphinx and a 217 feet Memorial Tower. Carvings across the walls depict the story of the war and its various transitional phases. The list of sculptures increases as there is also a Pantheon replica, which was donated to the Memorial.
Phone: +1 816 784 1918, E-mail, Website
Hours: Open Tuesday - Sunday from 10:00 AM to 5:00 PM

Hallmark Visitors Center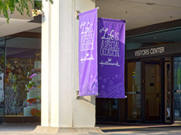 See how Hallmark Cards began
Address: 2501 McGee St (Crown Center), Kansas City, MO 64108 United States
More than 150,000 people come to this interactive museum and informational center each year. Here, you will learn about how Hallmark Cards started, meet some of the talented artists, writers and designers, view the massive collection of Keepsake ornaments and make your own gift bow to take home. Located in downtown's Crown Center, the Hallmark Visitors Center is a must-see for anyone interested in learning about the greeting card industry and the people behind it.
Admission is free.
Phone: +1 816 274 3613, E-mail, Website
Hours: Monday - Friday 10:00 AM to 4:30 PM, Saturday 9:30 AM to 4:30 PM, CLOSED SUNDAY

Powell Gardens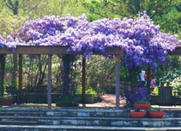 Kansas City's Botanical Garden
Address: 1609 NW US Highway 50, Kingsville, MO 64061 United States
Powell Gardens is a not-for-profit botanical garden located just east of Kansas City, Missouri. Our mission: to be an experience that embraces the Midwest's spirit of place and inspires an appreciation for the importance of plants in our lives. Set on 970 acres of lush, rolling hills and windswept meadows, Powell Gardens offers breathtaking display gardens, interesting architecture, a nature trail and a year-round calendar of special events and classes for the entire family. The Gardens receive support from foundations, corporations, individuals, the Friends of Powell Gardens and income generated through admissions, gift shop sales and rentals. For more information, see our profile at DonorEdge. Powell Gardens is known for its spectacular garden displays incorporating native plantings and the Heartland Harvest Garden, the nation's largest edible landscape. Powell Gardens also is known for its contemporary architecture by the architectural firm originally established by Fay Jones, now Maurice Jennings Architects. The Gardens can be rented for weddings, receptions, ceremonies and other private events.
Phone: +1 816 697 2600, E-mail, Website
Hours: Daily 9:00 AM to 6:00 PM