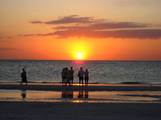 <![endif]>
Address: Clearwater Beach, FL United States
Rated the number one beach in the Gulf region. Offers many activities for the entire family, including swimming, sunbathing, boat rides, deep sea fishing, snorkeling, . The beach has soft white sand, is wide and provides a great place to walk or wade. Shore birds fill the air and small shells mix in with the sand. Sunsets are gorgeous. There is always something special going on at Clearwater Beach.
<![if !supportLists]> <![endif]> SiMatrix LLC dba CockpitsonicUSA

<![endif]> Flight Simulator
Address: 1299 Main St. Ste A, Dunedin, FL 34698, United States
Fly Our Real Size Flight Simulators! Have you ever wondered if you got what it takes to be the captain of a huge passenger airplane? To navigate a fighter jet in air combat? Now you can find out in Simulator Center Tampa Bay, Dunedin's newest attraction. Just a few minutes from Clearwater Beach, this center currently houses two breathtakingly realistic, full size flight simulators - a Boeing 737 NG and an F-16 fighter jet. Only believe what you see? Check out our website for pictures of these two beauties. Also don't forget to click on the Specials menu on our website to see our current deals! Book your flight online or call 813-842-4048! Gift certificates available! MENTION THIS AD FOR $10 OFF OF FLYING ANY OF OUR SIMULATORS!
Phone: +1 727 643 1781, E-mail, Website
Hours: Monday –Saturday, 10:00 am – 8:00 pm. By appointment
<![if !supportLists]> <![endif]> Ruth Eckard Hall
<![endif]> Performing Arts
Photo Courtesy of TripAdvisor.com
Address: 1111 McMullen Booth Road, Clearwater, Florida 33759 United States
Ruth Eckerd Hall engages the community to master, experience, discover and explore quality performing arts. As a nationally recognized premier Performing Arts Organization, Ruth Eckerd Hall offers traditional and innovative performances and educational experiences that engage diverse audiences and participants, in order to advance the arts and enrich lives.
Phone: +1 727 791 7400, E-mail, Website
Hours: Ticket Office Hours, Monday – Saturday, 12:00 noon – 6:00 pm & one hour prior to performances
<![if !supportLists]> <![endif]> Bright House Networks Field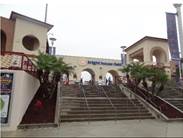 <![endif]> Baseball Field
Photo Courtesy of TripAdvisor.com
Address: 601 N. Old Coachman Rd, Clearwater, FL 33765 United States
The ball park is home to the Philadelphia Philles during spring training and the Clearwater Threshers during the minor league season. It is a wonderful venue to watch a ball game. This minor-league stadium is modern with lots of parking, plenty of good food and drink (ballpark prices, of course) and excellent concourses and views.
Phone: +1 727 467 4457, Website
Hours: Varies with season and events.
<![if !supportLists]> <![endif]> Sand Key Park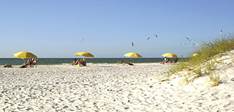 <![endif]> County Park
Address: 1060 Gulf Blvd., Clearwater, FL 33767 United States
Sand Key Park was opened to the public August 1984. Ninety-five acres are located on Sand Key, a barrier island between the Gulf of Mexico and the Florida mainland. Clearwater Pass, leading from the Gulf to the Intracoastal waterway, separates the park from the popular resort area of Clearwater Beach. The park welcomes more than one million each year. This beautiful park has two distinct areas—a beach and a park. In the park proper are two picnic shelters with grills, a playground, restroom and a dog park. Grills, picnic tables, and water fountains are but a few amenities. A salt marsh with viewing benches further enhances the park, where heron, roseate spoonbill, great horned owl, anhinga, and common moorhen nest and feed. Sand Key Park houses the base of operations for the artificial reef program, an interdepartmental cooperation program to build a reef in the Gulf. Sand Key Park's natural communities include a beach where sea turtles annually deposit eggs. The nearby Clearwater Aquarium takes responsibility for these nests and keeps statistics.
Phone: +1 727 582 2100, E-mail, Website
Hours: A lifeguard is on duty 9:00 am – 5:00 pm daily on a seasonal basis from March to September.
Clearwater Beach Jet Ski Guided Tours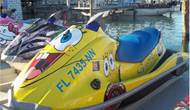 <![endif]> Fun on Water
Address: 400 Grand Boulevard Kansas City 64106 United States
Clearwater Beach Jet Ski Rentals LLC is a family owned and operated local business. Yamaha Deluxe and Cruisers jet skis are available. The jet skis offer a reverse gear and are fully service by a reputable Yamaha dealer. The jet skis have many safety features, including a fire extinguisher on each jet skis. On the day of your rental, one of our knowledgeable employees will instruct you on operating the jet ski as well as safety features. The company is fully licensed and insured.
Phone: +1 816 471 1856(Reservations)/+1 816 471 4030, Fax: +1 816 471 1616, E-mail, Website
Hours: Monday to Saturday from 10:00 AM to 05:30 PM, Sunday from 12:00 PM to 05:00 PM
<![if !supportLists]> <![endif]> Clearwater Marine Aquarium

<![endif]> Aquarium, Rehabilitation Center
Address: 249 Windward Passage, Clearwater, FL 33767 United States
Founded in 1972 by a group of volunteers, as a non-profit 501(c)(3) organization, CMA believes in preserving marine life and its environment while inspiring the human spirit through leadership in education, research, rescue, rehabilitation, and release. CMA is the leader in collaborative partnerships which support marine environmental awareness, research, and stewardship. CMA inspires passion to respect and protect our marine life and environment for future generations. Our vision is to impact the nations with the messages of environmental awareness and respect for marine life. Though we are best known for our physical location in beautiful Clearwater Beach, Florida, we have developed a global media platform allowing us to reach millions with our vision, well beyond the guests who come to our facility. We believe in thinking big, and doing big things. Our only limitations are the limitations we put on our self. In the spirit of Steve Irwin, let's all become "wildlife warriors" and deliver a better planet to future generations.
Phone: +1 727-441-1790, E-mail, Website
Hours: Monday – Sunday: 9am – 6pm