The ICC Website is changing. As this transition is made, our new format can be found at www.pesicc.org/ICCWP. Please send any comments or questions to mvh@voncorp.com.
PES-ICC - Fall 2002
---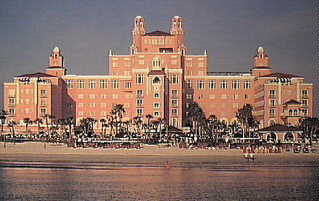 St Petersburg Beach, FL, October 27-30, at the Don CeSar Hotel - Be sure to see the area map

PICTURES - Joe Dudas and his trusty camera have come through again. We have pictures from the Fall 2003 meeting. There are so many, we've broken them up into three pages: Awards, Reception 1 and Reception 2. Thanks Joe!!
An Invitation
Be sure to see Chairman Bow's informative letter, inviting you to attend the Fall 2002 ICC meeting (updated September 9th).
Meeting Agenda
Chairman Bow has posted the Meeting Agenda (posted 09/30/2002). As always, check back for updates.
Special Presentations
The Subcommittees will sponsor many Technical Presentations (updated 10/24/2002) on key topics in their fields of interest. Check the listing periodically, as we'll be adding many topics as the meeting approaches.

If you plan to make presentation (especially if its a computer based presentation), be sure and check the Presentation Guidelines page. Remember, a computer projector will be provided by the ICC only for Orientation, the Opening Session, the Subcommittee sessions, the Transnational Luncheon and the Educational Program.

Registration
Special Notice - As in past years, the registration fee is higher for non-IEEE members than for IEEE members. In order to register as an IEEE member, you will have to know your IEEE number (its on your membership card and on the mailing label of IEEE publications).

Click here to download the Fall 2002 Registration form (Updated 8/23). Please pre-register as it helps us with the planning and it makes it easier for you. When you arrive at the hotel, all your registration materials will be ready for pick-up. If you are pre-registering, please send the form and a check made payable to the ICC to Bill Taylor, our Vice Chair and Treasurer. If you want to pre-register and pay when you arrive at the meeting, please e-mail, fax or mail the registration form to Bill. You will then be able to register at the pre-registration fee schedule.

Remember, the registration fee now includes the minutes on CD. If you want an extra copy of the minutes, or you are a corresponding member, you can purchase a CD copy of the minutes by checking the "Fall 02 Minutes on CD" on the registration form and paying an additional $50.00.

Educational Program
Educational Program Chairman Steve Szaniszlo has released details of the Fall 2002 session entitled URD Cable Design, Past, Present and Future. As always, participants will received a certificate of attendance for 4 professional development hours.
New Member Orientation
Past ICC Chairman, Mike Walker, will conduct an Orientation Session for New Members and Guests. Plan to attend. You'll learn about the organization, meet people and come up to speed faster.
Spouse Activities
A special Spouses Luncheon is planned at the Don, be sure to add this on your ICC Registration and there will be the usual ladies breakfast each morning.

The Ladies Luncheon will feature two speakers from the Don Cesar Hotel. One speaker will be from the Flower Shop at the Don and the other from the Fashion Shop. This is in addition to the program of "sharing" previously planned for the luncheon.

Hotel Information
Don CeSar

As in previous years, the ICC meeting will be held at the Don CeSar. We will have negotiated special rates for ICC members and guests and hope to see you there.

Reservations:

Toll Free Number (800) 282-1116 (USA & Canada)
Hotel Phone Number (727) 360-1881
Hotel Fax Number (727) 363-5034
Website: http://www.doncesar.com/

Cutoff Date for making guestrooms reservations is September 23, 2002. Any reservation received after the cut-off date will be accepted at the discretion of the hotel and upon standard/run-of-house room availability at the published rate at the time of the reservation.

PARKING: Self-parking is included in the resort fee for overnight guests. Non-resort guest parking will be provided at a daily rate of $6.00 per car per day with a parking voucher provided by ICC.

Located on the island of St. Pete Beach, The Don CeSar Beach Resort & Spa – the legendary pink palace – commands a magnificent beachfront location and features 277 "newly-renovated," deluxe accommodations, including 45 suites and 2 penthouses. All rooms have a partial water view, remote control TV, ironing board and irons, mini bars, voice mail and 24-hour room service. The Luxury resort is revered internationally for its sprawling, white sand beach, historic ambiance, unparalleled dining and fabulous recreational facilities. The Spa includes a full fitness center, scheduled exercise classes and wet and dry treatment rooms.

Tradewinds Island Grand Resort

To handle overflow from the Don Cesar the ICC has blocked a number of rooms at the Tradewinds Island Grand Resort, 5500 Gulf Blvd. St. Pete Beach, FL 33706

Reservations:

Toll Free Number (800) 808-9833 (USA & Canada)
Hotel Phone Number (727) 367-6461
Hotel Fax Number (727) 522-1214
Website: http://www.justletgo.com/

Cut-off Date – September 26, 2002

Tourist Information
Local information provided by the cities of St. Petersburg and Clearwater.
Hospitality Suites
If your company plans to have a hospitality suite in conjunction with the Fall 2002 meeting, be sure to see the Guideline page.
Return to the Future ICC Meetings page.
Return to the ICC Homepage.
IEEE prohibits discrimination, harassment and bullying. For more information, visit ieee.org/web/aboutus/whatis/policies/p9-26.html
Privacy & Opting Out of Cookies Terms & Conditions
IEEE ICC PES & Design is a registered trademark of The Institute of Electrical and Electronics Engineers, Inc.