The ICC Website is changing. As this transition is made, our new format can be found at www.pesicc.org/ICCWP. Please send any comments or questions to mvh@voncorp.com.
Matt Mashikian
PES-ICC Past Chairman
IEEE Fellow
2006 ICC Distinguished Service Award
---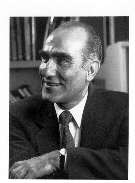 Dr. Mashikian received his MSEE from Wayne State and his Ph.D. from the University of Detroit. From 1983 to 1996 Matt was the Director of the Electrical Insulation Research Center and Professor of Electrical and Systems Engineering. Matt holds a dozen patents covering cable terminations, joints, bushings, insulation devices, lightning protection devices, a partial discharge locator, etc. He has published extensively on the premature aging of cables, cable partial discharge location, and electric vehicles, and has coauthored several EPRI technical reports. Matt is Fellow of the IEEE and member of the Power Engineering Society and the Dielectrics and Electrical Insulation Society. He is presently the Vice-Chair of the PES Insulated Subcommittee of the EPRI Underground Transmission Task Force, and is a Registered Professional Engineer in the State of Michigan.
M. S. Mashikian
IMCORP - Power Cable Reliability Consulting & Diagnostics
50 Utopia Road
Manchester, CT 06042
860.783.8000
matt.mashikian@imcorp.com

Return to the ICC Organization page.
Return to the ICC Homepage.
IEEE prohibits discrimination, harassment and bullying. For more information, visit ieee.org/web/aboutus/whatis/policies/p9-26.html
Privacy & Opting Out of Cookies Terms & Conditions
IEEE ICC PES & Design is a registered trademark of The Institute of Electrical and Electronics Engineers, Inc.