The ICC Website is changing. As this transition is made, our new format can be found at www.pesicc.org/ICCWP. Please send any comments or questions to mvh@voncorp.com.
Fall 2004 PES-ICC Meeting
---
Be sure to see the photos from the Fall meeting
St. Petersburg, FL, October 31 - November 3, at the Don CeSar Hotel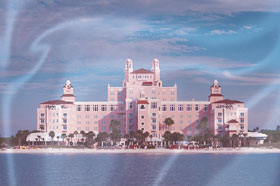 An Invitation
Hope you all had a great summer. It's time to start thinking about our fall meeting which will be at the Don Cesar in St. Petersburg from October 31 - November 3. Our group rate is shown in the Hotel Information section below. Reservations need to be made by September 27 to guarantee a room and the ICC rate. Please plan on staying at the Don Cesar or the Tradewinds, so that we meet our room commitments and don't have to pay a penalty.

As noted in an earlier ICC New release, the ICC was awarded subcommittee of the year by the PES at the summer meeting. This is attributed to all of our members, as it has to do with the accomplishments that we achieved during the year. Congratulations to everyone. The awards will be presented at the opening session.

The registration form is available below. Please register early and save some money and time at the conference.

Make your plans now and let's enjoy the Florida weather and each other's company as we learn and improve our industry. Looking forward to seeing everyone in October. - Bill Taylor, ICC Chairman

Meeting Agenda
Download the meeting agenda and plan your daily activities. (updated 10/27/2004)
Presentations
The Subcommittees will sponsor many Technical Presentations on key topics in their fields of interest. (updated 10/28/2004)

Attention Presenters: Guidelines for Presentation Material Published in PES – ICC Minutes (added 8/18/04)
Registration
The Fall 2004 Registration form is now available in MS-Word and PDF formats. Please submit to Jim Fitzgerald at the address shown on the form. (updated 9/8/2004)
Educational Program
Educational Program Committee Chairman Steve Szaniszlo has announced that the topic of the Fall 2004 Educational program will be: Statistics Analysis of UD Cable Failures. (updated 10/15/2004)
New Member Orientation
Immediate Past Chair, Ken Bow, will host a Guest/New Member Orientation session on Sunday afternoon from 4:00 to 4:45 pm at the Don Cesar. Its a great way to learn about the ICC, its history and its future. You'll meet some of the officers, learn about plans for the week and go away with a clearer vision of how you can be a part of the ICC and how the ICC can help you get your job done. Join us!
Hospitality Suites
If your company plans to have a hospitality suite in conjunction with the Fall 2004 meeting, be sure to see the Guideline page.
Spouse Activities
Monday Activity: Luncheon with a style show and sale. Denise's Clothes Corner will have eight racks of clothes for sale with a 10% discount for us. There will be table favors and door prizes.

Tuesday Activity: Some of our ladies will share their talents in teaching us to do crafts such as painting and henna hand painting. Box lunches will be provided and there will be a gift exchange. For this activity please bring a wrapped gift to exchange (approx. value $10.)

Attention Ladies: If you have a unique talent or craft, and would like to share with us, please let me know, Be prepared with supplies and instructions. A few women already volunteered with painting and henna. If you do bead work or stitchery or any other craft and would like to share, please do. Let me hear from you. Judy Bow 989-695-4659 or kblecnslt@consultant.com

Hotel Information
Don CeSar

As in previous years, the ICC meeting will be held at the Don CeSar. We will have negotiated special rates for ICC members and guests and hope to see you there.

Reservations:

Toll Free Number (800) 282-1116 (USA & Canada)
Hotel Phone Number (727) 360-1881
Hotel Fax Number (727) 363-5034
Website: http://www.doncesar.com/

Cutoff Date for making guestrooms reservations is September 27th. Any reservation received after the cut-off date will be accepted at the discretion of the hotel and upon standard/run-of-house room availability at the published rate at the time of the reservation.

PARKING: Self-parking is included in the resort fee for overnight guests. Non-resort guest parking will be provided at a daily rate of $6.00 per car per day with a parking voucher provided by ICC.

Located on the island of St. Pete Beach, The Don CeSar Beach Resort & Spa – the legendary pink palace – commands a magnificent beachfront location and features 277 "newly-renovated," deluxe accommodations, including 45 suites and 2 penthouses. All rooms have a partial water view, remote control TV, ironing board and irons, mini bars, voice mail and 24-hour room service. The Luxury resort is revered internationally for its sprawling, white sand beach, historic ambiance, unparalleled dining and fabulous recreational facilities. The Spa includes a full fitness center, scheduled exercise classes and wet and dry treatment rooms.

Tourist Information
Local information provided by the cities of St. Petersburg and Clearwater.
Return to the Future ICC Meetings page.
Return to the ICC Homepage.
IEEE prohibits discrimination, harassment and bullying. For more information, visit ieee.org/web/aboutus/whatis/policies/p9-26.html
Privacy & Opting Out of Cookies Terms & Conditions
IEEE ICC PES & Design is a registered trademark of The Institute of Electrical and Electronics Engineers, Inc.