The ICC Website is changing. As this transition is made, our new format can be found at www.pesicc.org/ICCWP. Please send any comments or questions to mvh@voncorp.com.
IEEE Fellow - Steven A. Boggs
---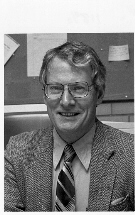 During his 12 years with the Research Division of Ontario Hydro, Steve conducted research in the areas of solid dielectrics, thermal cable design, and SF6-insulated systems. He was project leader of the team which developed the EPRI Thermal Property Analyzer (TPA), the first instrument to be licensed by EPRI. In the area of SF6-insulated systems, he pioneered the study of fast transients, and statistical modeling of disconnector operation. Much of this work was carried out in cooperation with the major manufacturers including Alsthom, ASEA, Brown-Boveri, and Siemens all of which were subcontractors under his direction during an EPRI-sponsored project to improve the reliability of solid dielectric spacers for GIS. Steve was elected a Fellow of the IEEE for his contributions to GIS technology. At Underground Systems, Inc., Steve designed the high temperature superconducting power cable now under EPRI-sponsored development by Pirelli and American Superconductor. He also invented a new cable termination design which has been fully qualified and which will soon be introduced commercially.
Steve is author of 80 technical publications, a Contributing Editor to Electrical Insulation Magazine, and a voting member of the IEEE Substations Committee. Steve has consulted for the ITAIPU Hydro Electric Project in Brazil, FURNAS (Rio de Janeiro), and numerous US utilities.
Steve is presently Director of Electrical Insulation Research Center (EIRC) and a Research Professor at the University of Connecticut in Storrs, CT.
Education
MBA, University of Toronto, 1987
Ph.D., University of Toronto, 1972
M.Sc., University of Toronto, 1969
B.A., Reed College, Portland, Oregon, 1968
Positions Held
Director, Engineering and Research, Underground Systems, Inc., 1987 to1993
Ontario Hydro Research, various positions, January 1975 to February 1987
Research Engineer, Electronic Associates, March 1974 to December 1974
PDF, Canada Center for Remote Sensing, September 1973 to March 1974
Return to the ICC Homepage
IEEE prohibits discrimination, harassment and bullying. For more information, visit ieee.org/web/aboutus/whatis/policies/p9-26.html
Privacy & Opting Out of Cookies Terms & Conditions
IEEE ICC PES & Design is a registered trademark of The Institute of Electrical and Electronics Engineers, Inc.