The ICC Website is changing. As this transition is made, our new format can be found at www.pesicc.org/ICCWP. Please send any comments or questions to mvh@voncorp.com.
IEEE Fellow - William Black
---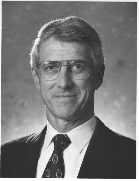 William Z. Black received his BS and MS in Mechanical Engineering from the University of Illinois in 1963 and 1964, respectively, and his PhD in Mechanical Engineering from Purdue University in 1967. Since taking his doctorate, he has been at the George W. Woodruff School of mechanical Engineering at the Georgia Institute of Technology, where he is presently Regent's Professor and the Georgia Power Distinguished Professor of Mechanical Engineering. He has directed a number of EPRI projects relating to ampacity of underground cables and overhead conductors. He is on several IEEE ampacity committees and is a member of CIGRE Committee 22.12 on the thermal behavior of overhead lines. He is a registered Professional Engineer in Georgia.
Contact Information
The George W. Woodruff School of Mechanical Engineering
Georgia Institute of Technology
Atlanta, GA 30332-0405
Phone: (404) 894-3257
FAX: (404) 894-8336
E-mail:

---
Return to the IEEE/ICC Fellows page
Return to the ICC Homepage
IEEE prohibits discrimination, harassment and bullying. For more information, visit ieee.org/web/aboutus/whatis/policies/p9-26.html
Privacy & Opting Out of Cookies Terms & Conditions
IEEE ICC PES & Design is a registered trademark of The Institute of Electrical and Electronics Engineers, Inc.