The ICC Website is changing. As this transition is made, our new format can be found at www.pesicc.org/ICCWP. Please send any comments or questions to mvh@voncorp.com.
PES-ICC - Fall 2000
---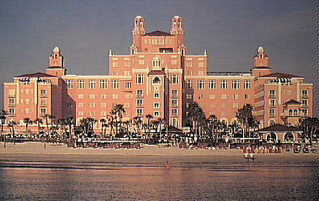 St. Petersburg Beach, FL, October 29 - November 1 at the Don CeSar Hotel
Thanks for Joe Dudas and his trusty digital camera, we have some photos of a great meeting.
An Invitation
Whether you are a new grad or retired, a guru or a rookie, Chairman Mike Walker wants to invite you to attend the Fall 2000 PES/ICC meeting in St. Petersburg Beach. Solve problems, make contributions, meet people and have fun, all at the same time.
Meeting Agenda
Chairman Walker has posted the Preliminary Meeting Agenda (revised 10/12/2000). There WILL be a few changes, so check back from time to time.
Special Presentations
The Subcommittees will sponsor many Technical Presentations on key topics in their fields of interest. Check the listing periodically, as we'll be adding many topics as the meeting approaches.

If you plan to make presentation (especially if its a computer based presentation), be sure and check the Presentation Guidelines page.

Registration
Pre-register and save the hassle of standing in line. The registration form is an Adobe Acrobat (pdf) file. You'll need the Acrobat reader to view the file. Its free from the Adobe website. Once you have the reader, you can typically view the file by left-clicking on the link or download it and view it later by right-clicking.
Educational Program
Educational Chairman Steve Szaniszlo has put together a great panel of presenters for the Fall program. The topic will be Fundamentals of Partial Discharge in the Context of Field Cable Testing. Please take note, the Educational Program will be held on Monday afternoon this year from 1:00 pm - 5:30 pm.
New Member Orientation
Past ICC Chairman, Rick Hartlein, will conduct an Orientation Session for New Members and Guests. Plan to attend. You'll learn about the organization, meet people and come up to speed faster.
Spouse Activities
Two great outings have been planned for the Fall meeting. On Monday, we'll take in the Tampa Grayhound. Then on Tuesday, its off to Tarpon Springs. Sure beats talking about partial discharge testing again. See the announcement for tour details.
Discount Travel
Avis is the official car rental company. To take advantage of their special rates, call 1-800-331-1600 and refer to Discount No. A606098.

Delta is the official airline. To take advantage of their special rates, call 1-800-241-6760 or your travel agent. Refer to File No. 167788A.

The airport limousine (The Limo) costs $17 on way, $30 round trip. Taxi from the airport to the Don is approximately $30 on way.

Hotel Information
As in previous years, the ICC meeting will be held at the Don CeSar (visit the "Don" on-line).

Note: the ICC is committed to a minimum occupancy. To avoid a charge for meeting rooms, please stay at the Don.

Overflow Hotel: Tradewinds 727-562-1240

Parking: If you are staying at the Don CeSar, parking is free. If not, the cost is $6 a day. A shuttle will run between the Tradewinds and the Don for those not staying at the Don.

Tourist Information
Local information provided by the cities of St. Petersburg and Clearwater.
Hospitality Suites
If your company plans to have a hospitality suite in conjunction with the Fall 2000 meeting, be sure to see the Guideline page.
Return to the Future ICC Meetings page.
Return to the ICC Homepage.
IEEE prohibits discrimination, harassment and bullying. For more information, visit ieee.org/web/aboutus/whatis/policies/p9-26.html
Privacy & Opting Out of Cookies Terms & Conditions
IEEE ICC PES & Design is a registered trademark of The Institute of Electrical and Electronics Engineers, Inc.